Stéphanie Badawi

















Through my work I have consistently sought to engage with the viewer on an emotional level, to draw them into a narrative that leaves them asking questions.
(1) PLANET FOR TOMORROW
Branding, Social media campaign, UI
2023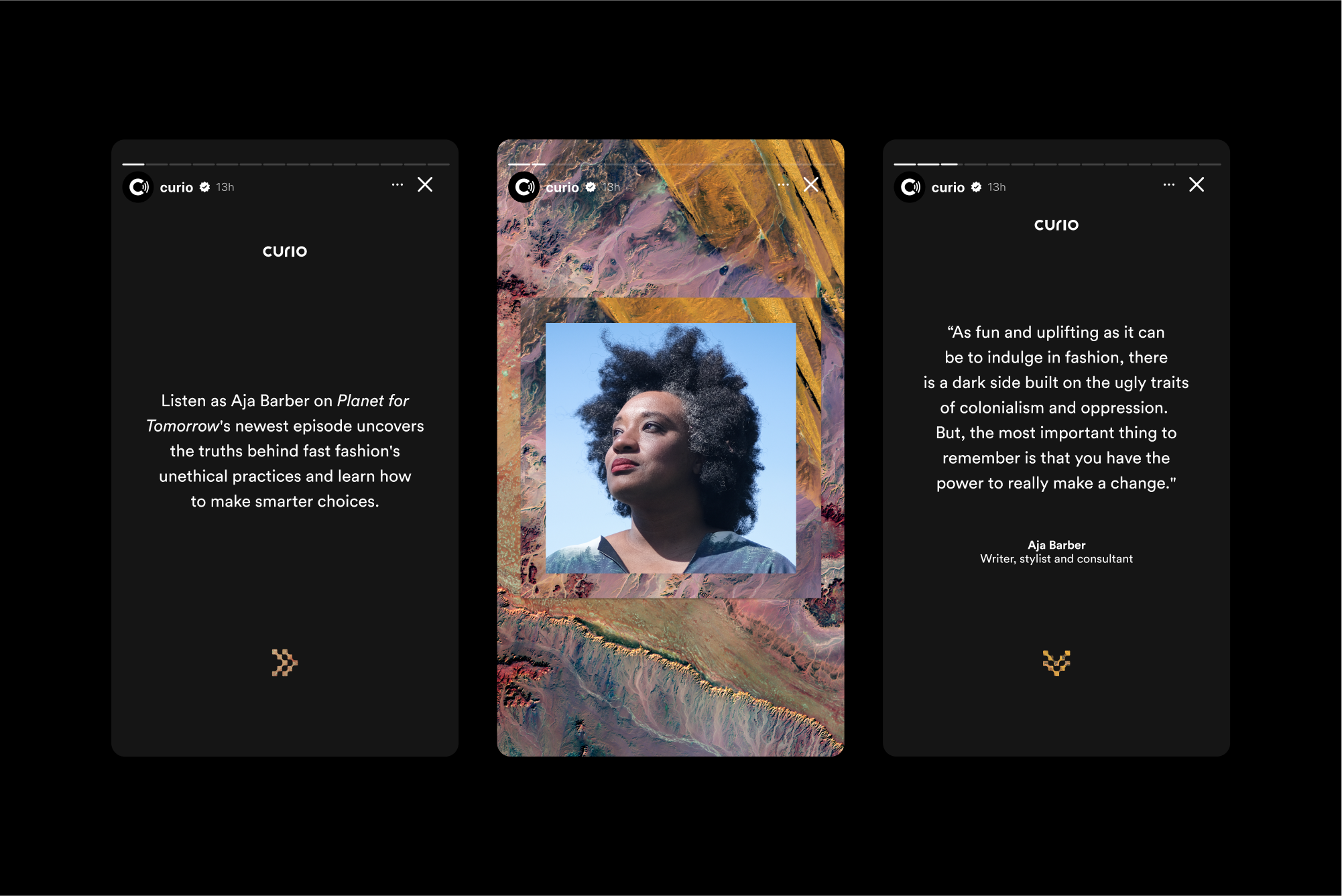 Planet for Tomorrow is an audio series featuring sustainability advocates as hosts. Covering a range of environmental topics, such as fast fashion and food waste, each episode delves into practical solutions that can be easily incorporated into our everyday routines. The show's branding incorporates aerial imagery of Earth, capturing the magnitude and significance of our collective actions. A distinctive landscape is associated with each host, creating a fresh identity for every episode while ensuring visual coherence with the overall show branding.

To underscore the imperative of progress, a futurist typeface and symbols are employed, reinforcing the importance of advancing towards a sustainable future.

Experience with the sound on.

Client • Curio, Audio journalism app

(2) RETOLD
Branding, Social media campaign, CRM, UI, Art direction
2023
Remarkable journalism is brought to life by iconic voices. In this podcast series, you will find extraordinary stories about real people retold by your favorite celebrities.

The branding centers around the essence of journalism, with a distinctive design journey for each episode. With handpicked typography and animated titles, each story becomes more immersive and personal, mirroring its own narrative.

The campaign unfolds in two phases: intriguing teasers that challenge listeners to identify the celebrity narrators, followed by the launch assets that draw the listener into the heart of the story.

Experience with the sound on.

Client • Curio, Audio journalism app

(3) GILLIAN ANDERSON'S AUDIO SERIES
Motion design for editorial and title animation.
2022-23
Gillian Anderson is an acclaimed actress in film, television, and theatre. In her personal audio series, she narrates and delves into a wide range of human stories, shedding light on lesser-known tales about remarkable women, social challenges, and sexual liberation. The series encourages listeners to question their current knowledge but also invites them to embark on a journey of self-discovery.

Motion design and title animation serve as visual components that enhance the narrative depth of each story.

Experience with the sound on.

Client • Curio, Audio journalism app

(4) YSAYE
Branding, art direction
2022
Ysaye is a Hackney-based jewellery brand specialising in abstract and sculptural rings. Typographic symbols were developed to showcase the proportions and process of ring making. Strongly influenced by mosaic patterns often found in North Africa and the Middle-East, both of the founders origins, these symbols brings a sense of mysticism to the brand.

Freelance project

(5) 'The cosmos is within us'
Editorial, documentation
2021
Visual exploration inspired by Carl Sagan. 'The cosmos is within us. We are made of star-stuff'.

In this series of spreads I wanted to convey a certain sense of introspection. Answers can be found within ourselves and at an atomic level everything is interconnected.

Self-initiated project